Nov. 15, 2012 - Download, View Online
AmeriCorps is the national service program that offers young adults an opportunity to serve communities across the country and gain valuable job skills in the process.
---
In 2012 the AmeriCorps VISTA program cost $453 million. In the same year the US Government spent more on direct subsidies to growers of feed grain for livestock.
---
An expansion of this program represents a low-cost option to bolster youth employment, as AmeriCorps alumni enjoy better job prospects and higher wages than their peers who have not participated in the program.35 At the same time, communities benefit from AmeriCorps participants' serving in public schools, tutoring disadvantaged children, and contributing to natural disaster preparedness and response.
Unfortunately, Congress cut AmeriCorps funding by 6 percent between FY 2010 and FY 2012.36 In 2011, there were a record 582,000 applications for AmeriCorps positions, but only 80,000 positions (Figure J), due to lack of funding. Sequestration now threatens to reduce AmeriCorps by an estimated $38 million dollars in 2013,37 a cut of more than 8 percent as compared to FY 2012 funding.
Figure J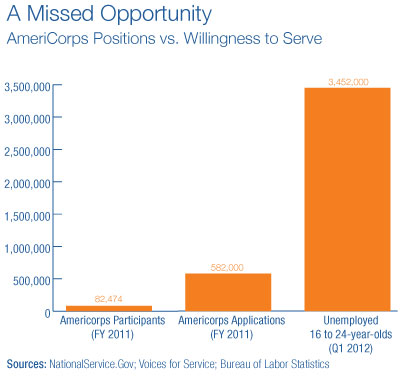 ---
ENDNOTES
35 Connolly, Trager, and Ney, National Service: Providing Pathways to Employment, 5.
36 Appropriations for the Corporation for National and Community Service FY2010 - FY2012. "Legislative Update," Voices for National Service, accessed November 1, 2012, http://www.voicesforservice.org/legis_update.htm.
37 National Priorities Project estimate of sequestration's impact on AmeriCorps VISTA programs.