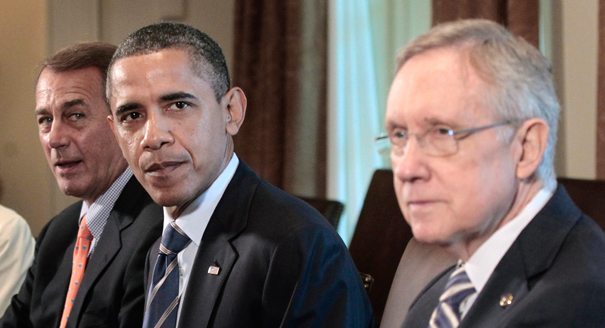 House Speaker John Boehner, President Barack Obama, and Senate Majority Leader Harry Reid
Unable to broker an eleventh hour deal with congressional Republican leaders, President Obama signed the order activating the automatic across-the-board federal spending cuts – known as sequestration – on Friday.

In the days prior to the March 1 deadline, the White House held a series of press briefings with the heads of various federal agencies highlighting the impact that sequestration would have on agency operations.

Secretary of Education Arne Duncan warned that the $14.5 billion Title I budget – which provides assistance to low income communities – would be cut $725 million and as many as 10,000 teachers and teachers' aides could lose their jobs. Special education, which receives about $12 billion, would be cut $600 million, resulting in about 7,200 teachers losing their jobs.

Transportation Secretary Ray LaHood noted that of the nearly $1 billion he would have to cut, Over $600 million of these cuts will come from the Federal Aviation Administration (FAA). This he predicted would result in significant delays and flight cancelations at our nation's major airports, the closing down of flight towers at less busy airports, and deferred maintenance on FAA equipment and runways.

Department of Homeland Security Secretary Janet Napolitano noted that perhaps the most critical result of cuts to her agency's budget would be to the flow of trade and travel at our nation's ports of entry – seaports, international airports, and landports, particularly along the Southwestern borders – as a result of the furloughing of Transportation Safety Administration and Customs Service employees responsible for screening individuals and cargos entering the country. This would have a direct impact on the nation's economy.

The White House also released a list of fact sheets showing the state-level impact of both Pentagon and non-defense spending cuts.

Other federal agencies have made their cases independently. Pentagon officials have warned repeatedly that they expect to furlough 750,000 civilians, resulting in a 20 percent decrease in their pay between late April and September. Training for Army units not scheduled for deployment to Afghanistan would be reduced, as would that of Air Force units, reducing unit readiness. Deployment of Navy forces will be reduced.

In a letter to Senate Appropriations Chairwoman Barbara Mikulski, D-Md., Health and Human Services Secretary Kathleen Sebelius listed the significant impact to the federal health services if sequestration goes into effect – $350 million cut from the Centers for Disease Control and Prevention, 30,000 children without child care services 373,000 seriously ill adults and emotionally disturbed children without treatment 4 million fewer meals delivered to senior at home, and $1.6 billion cut for medical research at the National Institutes of Health, among many others

Even now, it is unclear exactly what the impact of sequestration will be on these and other critical federal programs. Stay with NPP over the coming weeks and months as we help chart the way forward. For additional information, check out NNP's sequestration resources.